Board of Directors

Honorable Peter Elzinga, ECA; ICD. D.
Chair
Peter is President of Elicia Holdings Ltd., and Chairman of the Goodfish Lake Business Corporation Board. He is a member and graduate of the "Institute of Corporate Directors".
Peter served in the past as: Honorary Consul for the Federative Republic of Brazil, director on EPCOR Board of Directors, Vice President and Director for Edmonton Northlands, member of the Board of the 2001 World Games in Edmonton, and
a director on the Board of United Protection Security.
He has held the positions of Executive Director of the Progressive Conservative Association of Alberta, 1993 to 1998 and Chief of Staff to the Office of the Premier of the Province of Alberta from February of 1998 to March 2004 at which time he left to donate a kidney to his friend.
Elected as Member of the Legislative Assembly of Alberta for Sherwood Park from 1986 to 1993 during which time Peter served as: Deputy Premier and Minister of Federal and Intergovernmental Affairs and Minister Responsible for Government Reorganization (1992 – 1993), Minister of Economic Development and Trade (1989 – 1992) and Minister of Agriculture (1986 – 1989).
Prior to his election to the Provincial Legislature Peter served for twelve years in the Parliament of Canada as the Member of Parliament for the Pembina constituency and also served as President of the Progressive Conservative Association of Canada (1983 – 1986). Preceding his election as MP Peter farmed with his brother Henry.
Peter was Kinsmen of the Year in 1972/1973. In January, 2003 Peter Received the Queen's Golden Jubilee Medal,
and in September, 2005 the Alberta Centennial Medal both for outstanding service to the community, province
and country.
"Sherwood Park's Heritage Mile Society" recognized Mr. Elzinga as the representative with the broadest and most distinguished political career and best record of community contributions since the creation of Sherwood Park. These contributions were recognized at the unveiling of a cast bronze sculpture of Peter in Sherwood Park on August 12th, 2002. Peter was also selected by Alberta Venture magazine as one of the fifty most influential people in the Province of Alberta in the year 2003. In 1995 The Peter Elzinga Family Foundation was established to provide educational scholarships to those in financial need.
Darryl Steinhauer
Director
Mr. Steinhauer is currently the First Nation Consultation Coordinator for the Whitefish Lake First Nation #128. He has been working for the community of Whitefish Lake for a number of years and brings a wealth of experience and knowledge to the Goodfish Lake Business Corp.
Darryl has an accomplished background in a variety of fields including:
First Nation Consultation and Traditional Land Use
Formerly Manager/Director of Goodfish
Management Company
Former General Manager of Goodfish Wildlife Ranches
Former employee of Alberta Sustainable
Resource Development
Board of Director of the Goodfish Lake Business Corp.
Board of Director of the Tribal Chiefs Employment
and Training Services Association (TCETSA)
Board of Director of the Goodfish Gas Utility Corp.
Darryl enjoys all outdoor activities such as, hunting, fishing and horse packing and backcountry camping.
Garth Warner
Director
President and CEO Servus Credit Union, 12 years, April 2009 to May 2021. Superb background and expertise in Financial matters and services. Proven Business Acumen and experience in Government Relations. Fully Conversant with Policy Governance and has worked with and/or Served on many boards for over 20 years. Works well in a collaboratively in all environments. 
Jeffery R Gossain
Director
A decisive Executive and accomplished Board Member, providing Governance, Strategy and Risk Management Expertise as a member of Board of Directors for three companies. Successfully growing a start up company to a multinational. Raised over $40 million in equity and bank financing. Forged medical research partnerships with Harvard Medical School and the University of Alberta. Jeffery's education consists of B.Sc. in Mechanical Engineering for the UofA, Harvard Business School, Finance for Senior Executives and the Rotman Directors Education Program. (ICD,D)
Sandy Jackson
Director
Sandy Jackson is a member of the Whitefish Lake First Nation #128. He completed his High School in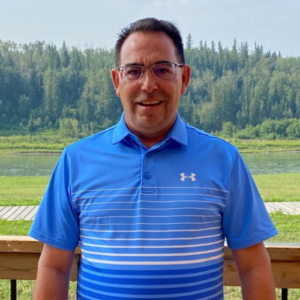 1987 in Vilna Alberta with an Advanced High School Diploma. Upon completion of High School, he was employed as a Surveyor's Assistant where he worked throughout Alberta, British Columbia, and the Northwest Territories, until he enrolled with MacEwan University (formerly Grant MacEwan Community College) and obtained Diploma in Management Studies in 1992.
Upon completing his post-secondary studies, he became employed within the Community and Economic Development department with Whitefish Lake First Nation. His primary roles involved community development, small business planning, and First Nation economic and business development including the Oil and Gas sector.
In 1996, Sandy was elected as Council member for Whitefish Lake and served 18 consecutive years for the Nation and has actively served with many regional, provincial, and national organizations and boards which includes:
St. Paul/Smoky Lake Community Futures Association and Business Development Centre
St. Paul Chamber of Commerce
Alberta Chiefs Round Table for Economic Development
Canadian Council for the Advancement of Economic Development Officers (CANDO)
North-Eastern Alberta Aboriginal Business Association (NEAABA)
Indian Oil and Gas Canada (IGOC) – Member of Joint Technical Advisory Task Force-Regulatory Amendments
Indian Resource Council of Canada (IRC)
Minister Robert Nault Roundtable for Economic Development.
Keyano Pimee Exploration Ltd. – Chairman
Goodfish Lake Business Corporation – Director
Tribal Chiefs West Society – Director
Having a vibrant history of associating with various companies within the Oil and Gas sector Sandy has taken on roles as public speaker, master of ceremonies and guest to many events throughout Alberta. He enjoys golfing, fishing, and hunting as well as volunteering with Goodfish Lake First Department and in local or community events.
Herb Jackson
Director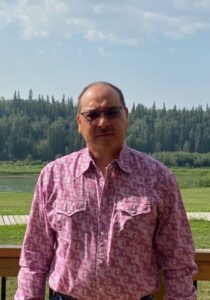 Herb Jackson is a member and resident of Whitefish Lake First Nation #128. He graduated from Ashmont High School in 1988 and spent the last 30 years working within the residential and commercial construction field as a carpenter, framer, and stucco labourer, as well as the oil and gas industry as pipeline labourer. His experience working on and off reserve has enabled him to gain considerable knowledge of business, operations, and industry.
On April 29, 2021, Herb was elected Council member of Whitefish Lake First Nation #128 and thereafter appointed as Director of Goodfish Lake Business Corporation. Herb strives to bring a different perspective to the community of Whitefish (Goodfish) Lake using his knowledge and experiences and believes in building a better and brighter future for the Nation.